Robert Camp, Ocala, Daytona Beach Near the Pier, oil on canvas 20 1/4 by 30 1/8 inches, signed lower left, titled verso.
Robert Camp was born in Ocala, the son and grandson of Florida pioneers. Camp's grandfather founded the Florida Bar Association and was first president. His father and grandfather built the first hydroelectric plant in Florida on the Withlacoochee River. Camp began his career in art at the age of 16 attending Le Rosey in Switzerland, St. Albans in Washington, and the Ecole des Beaux Arts in Paris. His first one-man show was at the Jacksonville Woman's Club. Camp enlisted in the U.S. Navy in 1942 working as one of a group of Navy combat artists. Discharged a lieutenant commander in 1947, Camp spent five years in the Art Division of the United States Treasury Department before moving to New York City doing commercial art layouts for Du Pont, De Beers Inc., Scribner publications. and Fortune Magazine. He returned to Ocala in 1954 teaching art at the University of Florida and Ocala Junior College. Camp briefly ran his own art school in Ocala. He met Majorie Kinnan Rawlings in 1938 and became a good friend of hers and a frequent guest for dinner at Cross Creek. Rawlings bought Camps first painting as a professional with an advance from her publisher for The Yearling and years later told Camp. "she couldn't drive for two weeks because of lack of gasoline money." Camp illustrated her books Cross Creek and Cross Creek Cookery. Rawlings said of him, "In back of the obviously good drawing and painting of Robert Camp is something important – his own emotional reaction to the world as he sees it. He sees not only with the outer eye, but the inner eye; he conveys that inward vision not only tangibly to the eye, the mind, the ear, but intangibly to the emotions and the spirit." The Orlando Morning Sentinel, March 28, 1971, said of Camp, "Artist Robert C. Camp, Jr. is a native of Ocala and a Cracker at heart. Despite his cosmopolitan education, he paints with warmth and feeling, the common places of his home state." Camp moved to Tampa in 1973, possibly for health reason, and reminisced with the Miami Herald on his memories of Marjorie Kinnan Rawlings and Cross Creek. Education: Gstaad, Switzerland; Yale University; Ecole Nationale des Beaux Arts, Paris, four years. Exhibits: Society of the Four Arts, Palm Beach, 2nd Annual, April 1937, flower painting; Jacksonville, 1938; New York World's Fair, 1939; Society of The Four Arts, 15th Annual Exhibition, Contemporary Paintings and Sculpture, March 1953, oils, Bottles, Still Life with Oranges; Manatee County Fair, prize, January 1954; Society of The Four Arts, Contemporary American Painting Exhibition, January 1955; Society of The Four Arts, University of Miami, Lowe Gallery, Patronato De Bellas Artes y Museos Nacionales, Palm Beach, Miami, Havana, December 1955, January 1956, February 1956, Green Bottle, The Blue Rose Bar; Southeastern Annual, Atlanta, 1957; Florida State Fair, Tampa, February 1958; Maas Brothers Department Store, Tampa, March 1958; Society of The Four Arts, 20th Annual, Contemporary American Paintings, December 1958, oil, Blue Bar, honorable mention, oil, Dominican; Society of The Four Arts, 22nd Annual, Contemporary American Paintings, December 1960, oil, Abstract With White; Center Street Gallery, Winter Park, one-man exhibit, January 1963, Florida landscapes including, Marion County, Fort Matanzas, Silent Villa and Georgia's Fort Fredericka.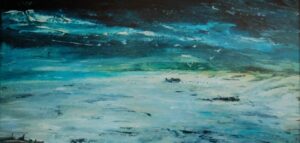 Robert Camp, Ocala, The Beach (Gulls), oil on canvas, 14 by 28 inches, signed R. Camp, lower left, titled on verso.