In the early 1950's, as a student at South Broward High School in Hollywood, Florida, I learned to love the poetry of Alfred Tennyson, Rudyard Kipling and A.E. Houseman. It wasn't long after, that I began to love art; but it was a long time before I learned the English made significant contributions to Florida in another art form, watercolors and oil on canvas: visual poetry.
American art began in England when Benjamin West entered the London court of George the Third. It continued with John Singleton Copley, Charles Wilson Peale, Gilbert Stuart and John Trumbull, all of whom worked or studied in London. A "Special Relationship" existed between the United States and Great Britain, in the art world, long before Franklin Delano Roosevelt and Winston Churchill.
That special relationship continued here in Florida with five Englishmen, artists all, who made the long trip from foggy London to the Sunshine State some forty years before the Highwaymen began painting in Ft. Pierce. You might think of them, Howard Hilder, Joseph Hamilton, Harold Hilton, Orton Copson and Gerald Leake, as: The Englishmen. Let me tell you a bit about them.
I was introduced to Howard Hilder over twenty-five years ago by my good friend Tampa antiques dealer Michael Turbeville. Mike was on the field at Brimfield, Massachusetts when he spotted a small painting that looked tropical. On the back was the following in part: "Part of a rock sink (or natural depression in the rocks) in Timmis (sic) Hammock, Dade County, Florida seldom visited by man. The tree on left foreground is Pond Apple and the limb across the picture is Gumbo Limbo. Maiden hair fern grows profusely on the walls of the rock sinks. The tracks of the Florida Lynx, opossums and various smaller mammals are in quantity on the floor of these places. Coconut Grove, Fla, March 2, 1920. Howard Hilder." It was one of the first paintings in my collection.
Hilder was born in London in 1866 and studied art at the Academie Julian in Paris with William Adolphe Bouguereau. He came to the United States in 1905 and began traveling the east coast, following the seasons and painting; in the summer at Newport, R.I. , in the fall down to Charleston, S.C. and St. Augustine, out on Anastasia Island and finally down to Coconut Grove.
In 1917 the Charleston News-Courier said of his work: "It will be remembered that Mr. Hilder is a poet as well as an artist, several of his poems appeared last winter in the columns of the News- Courier and Charleston is to be congratulated in having found favor in his eyes and we, his friends, in the fact that he will soon again be with us. Mr. Hilder's service to Florida, not only in expressing so truly and skillfully the rather difficult beauties of her tropic jungles, but in bringing these same beauties before the people of the United States as widely as the crowds at his northern exhibitions would indicate, is unquestioned."
The Miami Herald, March 20, 1920 commented: "Mr. Howard Hilder is rapidly becoming known throughout the United States as the Chopin of Painters by reason of his brilliant technique combined with deep poetic feelings and the pensive half sadness that runs through his compositions. Having spent three winters in Dade County, Florida, and the two last in Royal Palm State Park… he has studied Florida scenic conditions intimately at all times of the day and night. He has produced the truest and best paintings of Dade county scenery yet attempted."
By 1923 Hilder was considered the dean of the Miami artist colony. He painted a series of murals, The Life of Christ for the St. Stephens Church in Coconut Grove, murals for the King Cole and Nautilus Hotels on Miami Beach, a mural for the Miami Woman's Club, scenes at Miami Senior High School, and a mural for the opening of Rollins College's Bok-Anne Russell Theater in Winter Park.
Loving the poetry of Emily Dickinson I was pleased to learn that it was in Coconut Grove that Hilder likely had a love affair with Mable Loomis Todd, the editor of Emily Dickinson's papers and the woman most responsible for the publication of Dickinson's poetry. Mable Todd was also known for her long and passionate love affair with Emily's brother, Austin Dickinson. Come summer, Hilder would drive Mabel, in her Buick, all the way from Florida to Maine, where she had a home on Hog Island.
My old Lakeland friend, now gone, antique dealer Maurice Cheeks helped me add Hilder's wonderful canvas, The Rose Mahon, Miami, 1924 to my collection. The Mahon was a five mast ship that sailed from Maine to Miami. It was eventually run aground and used as a recreation center for soldiers and sailors during World War II, before being torn down.
I met Joseph Hamilton back about 1990 at Lou Ross's antique center on Central Avenue in St. Petersburg when I found Hamilton's oil on board, 7 by 35 inches, entitled Belleair Pines.
Hamilton was born in Bath, England in 1858 and for many years owned an art gallery near St. Paul's Cathedral in London. Following the death of his first wife he moved to Toronto, Canada and established an art business. Hamilton came to Clearwater and Largo in 1911 and was soon regarded as one of the outstanding men of early Pinellas, known for his artistic and literary abilities. Hundreds of Hamilton's paintings were scattered though-out the county. Hamilton was also a poet; many of his poems written on the back of his paintings and given to friends. When his home burned in February 1924, the citizens of Largo built a new house for him in the Ulmerton section, where he lived until his death in 1934. His obituary in the Clearwater Sun, June 24, 1934 reads in part: "Many years ago he was a friend of the Archbishop of Canterbury and directed the choice of art furnishings for many of the leading homes in England. On one occasion he sold an order of art for $16,000. Mr. Hamilton's paintings have been exhibited at the Women's Club of Clearwater and many of his pictures are hung in the Courthouse and private homes here."
I found Harold Hilton on EBay. Occasionally one of his delightful watercolors will pop up. Hilton was born in London in 1886 and worked as a store clerk while studying art at London's Polytechnic School. He immigrated to the United States and continued his studies at the Art Institute of Chicago. During the First World War Hilton was chief designer for the Federal Sign System and worked as a painter for the U.S. Army camouflage unit. He moved to Jacksonville in 1925 and began cruising Florida waters from his home on the St. John's River. In 1930 Hilton was the first president of the Florida Watercolor Society and president of the Florida Federation of Art from 1937-38 and 1947-48. His work in Jacksonville included murals for the George Washington Hotel auditorium, the Indian Room of the Seminole Hotel, and the Peacock Club. Hilton did murals in Miami for the ceilings of the Florida National Bank and the Du Pont Building in Miami, and in Key West for the La Concha Hotel. The Du Pont ceiling mural was a Florida tarpon fishing scene, The Silver King.
When Hilton opened a one man exhibit of his watercolors in Gainesville in April 1930, the Gainesville Sun reviewed his work, "The walls of the auditorium in City Hall are alive with watercolors painted by that master of transparent wash who has injected into his pictures the very pulse beats of Florida, her elusive beauty, her color tones that have proved in almost every instance always the unfathomable to artists that have gone before. Not so with the London born painter who is now in the University City holding an exhibit under the auspices of the Gainesville Association of Fine Arts. The wild and natural scenery that is the heritage of Florida has found a sympathetic friend in artist Hilton, who speaks the same language as the winds that sway the top most branches of tall trees or the waters that lap along the shrimp boats he so faithfully reproduces on paper…. Although he claims England as a birthplace… it is Florida to whom Mr. Hilton has given his heart…."
Orton Copson was an accomplished artist who trained in England, Holland and Germany. He worked as a porcelain decorator at Royal Worcester, Minton and Dolton. In London Copson was employed as an artist for Queen Victoria's publisher, Raphael Tuck and Sons. He came to the United States and Grand Rapids, Michigan in the 1890's, to work as a furniture decorator for the Oriel Cabinet Company. In Florida Copson continued as a pottery decorator, first in Bradenton for Mary Ward and Henry Graack and later in St. Petersburg for Kohler Florida Pottery and the Crescent Tile Company. His hand painted tiles can be found in many Spanish or Moorish styled homes in St. Petersburg including: in Granada Terrace, N.F. Stone's home in the Jungle, Perry Snell's home on Coffee Pot Bayou, and the McCutcheon home in Pasadena.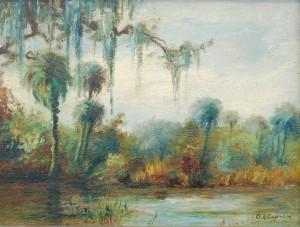 A review of an exhibit of Art Club of St. Petersburg artists in the St. Petersburg Times, June 3, 1928 notes: "Octar (sic) Copson, English artist, who has made his home in St. Petersburg for the past few years, is a new exhibitor with the local gallery, although he has been a member of the Art Club for some time. One of the most delightful of his eight pictures entered is a slight sketch in oil made of the curving beach at Pass-a-Grille."
Thanks to Florida antique dealer Larry Roberts of Micanopy I have one of Copson's signed Kohler Pottery vases but it was just pure luck that last year brought me into a shed at Mount Dora's Renninger's Flea Market, where I found a nicotine scarred painting by Copson for $60. Here it is cleaned.
Gerald Leake's work would be familiar to anyone old enough to remember the rosy cheeked children on Coca Cola billboards or Lucky Strike illustrations in the Saturday Evening Post. Leake was born in London in 1884 and in 1905 became a professional artist. His first painting submitted to the Royal Academy in London in 1909, was accepted and sold. He was elected to membership in the Royal Society of British Artists in 1913. Leake came to the United States in the early 1920's to begin a distinguished career as an American illustrator. An Associate of the National Academy of Design, Leake received many awards including the National Academy Gold Medal, the Gold Medal of the Allied Artists of America, the Salmagundi Prize, and the Shaw Prize.
Leake's Key West work is hard to find. I found this one on EBay.
Leake moved to Key West shortly after World War II, and in 1950 opened the Leake Art School on Flagler Street and Second Avenue. He lived on a house boat docked on Garrison Bight and became harbormaster. The Key West Citizen, November 17, 1957: "There are many newcomers among us who do not realize that we have, in our town, an artist of very considerable acclaim. Gerald Leake came to America from England some thirty years ago and proceeded to capture a $1,000 dollar prize with the first painting he exhibited in this country. Several New York galleries then became interested in handling his work…. He is a very modest, unassuming man in the light of the success he has had in illustrative creation and serious art. Most of his illustrative years were spent in New York where he worked for such magazines as Cosmopolitan, Harper's Bazaar, Good Housekeeping, McCall's and others. Leake was commissioned to do commercial art for internationally popular products such as a popular soft drink (Coca Cola) and a brand of cigarettes…. He is a quiet man who seems content with the solitary life he has made for himself on his boat at the Yacht Club. There is a dignified old world charm about him that is very appealing. He is now resuming his duties as teacher for the winter season."
Well that's The Englishmen, jolly good fellows don't you think? I hope you liked meeting them. It was an honor to introduce you. Someday when you're out antiquing perhaps you'll meet them again.