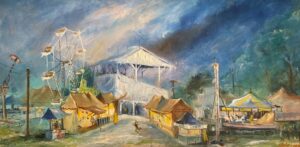 James T. Robe, Tampa. Thunderstorm at Tampa County Fair, 1964, acrylic on board, 21 1/2 by 47 inches.
It seems a bit strange that an artist like James Robe would graduate from the University of Cincinnati in 1952 and join the Army. The Korean War was still raging; perhaps he volunteered or was drafted. But his time in the Army seems to have started his career, substituting a brush for a rifle. While in service Robe painted a large mural defining military teamwork for the field house at Fort Jackson, Columbia, South Carolina. The mural depicts a soldier holding a rifle and behind him, in support, athletes from different sports. In 1953 the Bradenton Herald pictures Robe doing portraits of servicemen at a USO in Columbia. After discharge Robe returned to Cincinnati as a free-lance artist and caricaturist, doing magazine and book illustrations and a cartoon strip for the Cincinnati Post. It's unclear when he first came to Tampa, but in 1953 a painting of his was awarded honorable mention in the first Pan American Art Exhibition of Tampa artists touring Latin American countries. Robe began traveling to university campuses in Florida doing quick 15-minute caricatures of students. In Tampa he accepted landscape and portrait commissions and did caricatures of well-known Tampa Bay personalities including George Steinbrenner, Al Lopez and Jim Ferman. In 1965 he began working as an artist and cartoonist for the Tampa Tribune. His Vigilant Thanksgiving, depicting a Marine Thanksgiving in Viet Nam, appeared on the front page of the Tribune, November 25, 1965. Robe's paintings included Tampa cityscapes, rural scenes of Hillsborough County, beach panoramas and the views of the Florida Gulf Coast. As a court room artist Robie was the "eyes of the public" in Florida court rooms, doing sketches of Ted Bundy and the Columbian drug dealer Carlos Lehder for Florida newspapers, until judges began allowing cameras in court rooms in the 1990's. In conjunction with his wife Jackie, an award-winning landscape photographer, Robe illustrated a 1997 book on Florida history. Before his death in 2000 Robe created plaques depicting the 14 Stations of the Cross for his church, St. Martin's Episcopal Church in Hudson. Born: Michigan, 1928. Died: 2000, Hudson Beach, Fl. Education: Design at the University of Cincinnati., 1952. Exhibits: College of Applied Arts, University of Cincinnati, June 1952, first prize, advertising design; Pan American Art Exhibit by Tampa artists for tour of Latin America, March 1953, honorable mention.
Robe, James, Tampa. Downtown, watercolor, tempera 16 by 24 inches. Signed lower right James Robe, 1964.