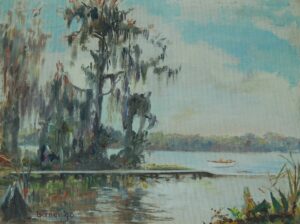 Elma A. Berner, Orlando. St. Johns River, Crew Landing, Rollins College, Winter Park, oil on canvas board, 9 by 12 inches, signed lower left Berner 40.
Elma Berner moved to Orlando from White Hall, Michigan in 1913. An artist who had trained at the Art Institute of Chicago she was soon well known in Orlando art circles. Over the next forty years she was a charter member of the Orlando Art Association; later president of the Association and in charge of the art department of the Central Florida Fair. Hugh McKean, president of Rollins College, was one of her students.
During the Depression Berner worked in Orlando as a government artist for the Florida Art Project (FAP). She is listed as a participating Works Progress Administration (WPA) artist in Region No. 5, Report of the Assistant Secretary of the Treasury to Federal Emergency Relied Administration, December 8, 1933-June 30, 1934 (FERA). In 1935 as part of the Florida Art Project, FERA, she and artist George Sternberg assisted Edith Fairfax Davenport on a series of four murals for the civic auditorium of the Orlando Chamber of Commerce. The murals record the industries of Orlando County, including the cattle, lumber, turpentine and orange industries. As a FAP artist, Berner's painting, Azalea Gardens, was made for a residence hall at Florida State College for Women.
When Orville Davis, Principal at Orlando Memorial Junior High, decided he wanted some culture on the school's bare walls, the PTA and the School Board agreed and petitioned the FAP for an artist. Elma Berner got the assignment. A year later two large murals were hung, one depicting Osceola's refusal to surrender at Moultrie Creek, thrusting a dagger through the treaty, the other the first steamboat on the Wekiwa River with Seminoles watching. The murals at the Orlando Chamber of Commerce and Memorial Junior Hight appear to have been lost when the buildings were demolished.
According to an article in the Orlando Sentinel (March 21, 1937) the Memorial murals (center panel 10 feet wide by 13 feet high, with two side panels both 7 feet wide tapering from 13 to 7 1/2 feet) were not painted directly on concrete or dry wall, they were "hung," and should have survived demolition. Did they? As for the Davenport murals at the Chamber of Commerce they were 10 by 12-foot panels. What happened to them?
Born: 1879, Grand Rapids, Michigan. Died. June 25, 1953, Orlando. Education: Art Institute of Chicago; with Weyman Adams and John Vanderpool; Rollins College with George Ganiere. Membership; Florida Federation of Art; Orlando Art Association. Exhibits: South Florida Fair, Tampa Fair Grounds, February 1921, first prize, watercolor from nature, third prize, oil portrait from nature, first prize, charcoal; Students' Art Club, 2nd Annual Exhibit of Florida Art, Tampa Museum of Art, City Hall, March 12- 19, 1923, Oaks at Palm Springs; Tampa Art Institute, 5th Annual Exhibit of Florida Artists at Tampa City Hall, March 1926, Marches of the St. Johns, Portrait of a Lady, Flatwoods November, Hibiscus, Banks o' Gatlm; Orlando Art Association, Florida artist exhibit, May 1927, 1st prize flower study, Peonies; Tuttle Shop, 16 North Orange Avenue, October 1928, Zinnias and a portrait, Mrs. E. G. Duckworth; Orlando Art Association at Chamber of Commerce, November 1928, Zinnias; Central Florida Exposition, Orlando, February 1930, 1st prize in landscape, prize, portrait in oil ; Orlando Art Association, at Chamber of Commerce, December 1931; Orlando Chamber of Commerce, December 1931, two-man exhibit with Florence Hudson, 34 paintings, many of Florida scenes; Florida Art Project of Florida Emergency Relief administration, at Florida State College for Women, June 1935; Federal Art Project, Florida State Fair, Tampa, June 1937; Florida Federation of Art 14th Annual Circuit, December 5, 1941, Tampa, best Florida subject, Morning on the Little Wekiwa.