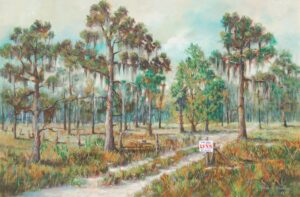 Frank S. Hawkins, St. Petersburg. For Sale Twenty Acres, oil on canvas, 23 3/4 by 36 inches. Signed lower right F. Hawkins, 68.
Frank Stephen Hawkins was a popular Pinellas County landscape artist who loved nature and tried to paint Florida as it was before development. Born in England, Hawkins immigrated to Canada with his family in 1914.
Hawkins loved his home in Canada but couldn't take the cold winters. He remembered pulling a team of horses when it was so cold that icicles a foot long hung from their faces, "I felt so sorry for the horses." Tiring of the 30 degrees below temperatures in Ottawa, in 1924, at the age of 18, Hawkins and a friend took two weeks to drive to Tampa and spent the winter living in a Tent City in Ybor. Hawkins later remembered doing his first sign painting, some 14 feet long, for a grocery store in New Smyrna Beach, for $8. Returning to Canada, Hawkins vowed he'd get back to Florida.
Marrying before he was 20, Hawkins moved to California where he studied theater poster art and painted stage backdrops for Paramount Studios. He returned to Florida in the 1930's but couldn't earn a living and headed north to Detroit where he worked as a commercial artist designing decals for Ford Motor Company. During World War II, Hawkins worked on layouts for insignia and decal transfers for B-24 bombers. In 1948 his oil, The Mail Corner, won a prize at the Detroit Art Institute and was reproduced in the Detroit Free Press.
Finally in 1949, the lure of Florida's warmth was too much, and he moved to St. Petersburg. One of his first jobs was the exterior artwork for Petersburg's Temple Beth-El.
Hawkins entered his painting The Mail Corner, in the Florida International Art Exhibit at Florida Southern College in Lakeland in March of 1952, and of the more than 1200 entries, the painting again won a prize and was reproduced in the St. Petersburg Times, March 16, 1952.
The Times March 28, 1954, noted Hawkins was, "a prominent St. Petersburg artist," and quoted artist Robert Sprague who said of Hawkins, "His paintings are always logical and often quite explosive reactions to his environment…the obvious intensity of his feelings, the force of his convictions and the visual strength of his design…all these impart to his work a distinct religious flavor. He is a painter's painter with something important to say and with the courage and technical means to say it."
In 1965 Hawkins was named Artist of the Year by the Pinellas Park Society of Fine Arts. One of his prize-winning paintings, Granny's Petunias, won 1st prize at a 1967 statewide art completion in Ocala. He was honored by the Art Club of St. Petersburg and the Florida Federation of Art.
Hawkins moved to Dunedin in 1976 and devoted the last 15 years of his life to painting river and oak landscapes of Sand Key and Clearwater, always trying to capture to beauty of the area before settlement. In an interview with the St. Petersburg Times (September 16, 1977) Hawkins said he painted for economic reasons and because he loved it. "I've done what I pleased all the way down the line…it's been a terrific life."
Born: January 16, 1906, Weymouth, England. Died: May 1, 1978, Dunedin, Florida. Education: Detroit Society of Arts and Crafts; Portraiture with Leon Makowski; Sarkis Sarkisian, Detroit; William Pachner in Cleveland. Membership: Art Club of St. Petersburg; Florida Federation of Art; Florida Artist Group; Dunedin Cultural Arts Center; Michigan Artists Association. Exhibits: Michigan Artists Exhibition, Detroit Art Institute, November 1948, The Mail Corner (pictured in Detroit Free Press, November 7, 1948; Art Club of St. Petersburg, November 1951; Florida Gulf Coast Art Center,17th Annual, April 1951, 2nd prize, popular prize, Rural Route 1-Ann Arbor; Florida International Art Exhibit, Florida Southern College, March 1952, prize, The Mail Corner (pictured in St. Petersburg Times, March 16, 1952); Florida Federation of Art, 25th Annual, St. Petersburg, November 1952, Pinellas County Printing Co. Prize, The Pier; Pinellas County Fair, February 1953, 2nd prize, surrealistic oil, 2nd prize, abstract oil; Art Club of St. Petersburg, Members' Spring Exhibition, March 1953, oil, Edwin Moore; Pinellas County Fair, February 1954, 1st place, abstract oil; Sprague Art School Gallery, St. Petersburg, March 1954, one man show; Manatee County Art League, February 1968, , Abandoned House; Lewis Art Gallery, Central Avenue, August 1968, one man exhibit; Art Club of St. Petersburg, September 1968; Florida Gulf Coast Art Center, Belleair, February 1969; Art Center Association, St. Petersburg, June 1971, Shallow Roots. Directory: Listed in the St. Petersburg City Directory in 1954 as an artist with studio at 4655 9th Avenue North.