Mario Sanchez, Key West. A Red Mouth Yellow Grunt, carved oil on board 11 1/4 by 18 1/2 inches.
Mario Sanchez was born and raised in the Key West. Self-taught as an artist, Sanchez began carving and painting in the 1930's, while working as a translator and court reporter at the county courthouse. Later he worked as a janitor and pitched for the Key West Pirates.
Sanchez became Key West's most famous artist, his carved bas-relief paintings colorful, innocent depictions of the sunny side of Key West life. The Key West Art and Historical Societies, Member's Art Show, April 1958, was Sanchez's first exhibit with the Society. The Key West Citizen April 1, 1958, reviewing the show and under "Primitives" commented, "On the archway walls to the second gallery room are two important primitives by native Key Wester, Mario Sanchez. Sanchez has been depicting early scenes and folklore of Key West for the last twenty years, and his pieces here are painted woodcarvings that show, 'Teodoro Holtsberg Store' (where the present Herman's store now stands), and 'Leche Fresca,' (Key West's early milk delivery service), with, for full measure, a cigar factory and columned residence." Sanchez sold his work locally, but it was not until the 1960's that his work began to receive widespread attention. Sanchez was widely exhibited in Florida and was included in a traveling show, "A Separate Reality, Florida Eccentrics."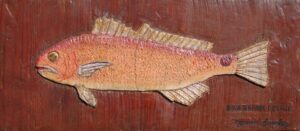 Mario Sanchez, Key West. Boca Grande Redfish, carved oil on board, 7 1/2 by 16 3/4 inches.
The Museum of American Folk-Art Encyclopedia said of Sanchez, "The best Cuban-American folk artist of this century. His memory carvings are both decorative and historically significant, documenting as they do the life of this Cuban community in Key West at the turn of the century."
On October 7, 2003, the people of Key West celebrated Mario's 95th birthday. A plaque was placed on the corner of Duval and Louisa streets that reads, "Mario Sanchez, A Key West Artist, Born in This House, 1211 Duval St. October 7, 1908."
Born: October 7, 1908, Gato's Village, Key West. Died: April 28, 2005, Key West. Education: Otto L. Schultz, Business Institute, Key West. Membership: Key West Art and Historical Society. Exhibits: Key West Art and Historical Society, Members' Art Show, East Martello Gallery and Museum, April 1958; Poinciana Art Exhibit at Burdine's Auditorium, June 1961, best craft work, a painted wood carving; Florida State Fair, Tampa, exhibited between, 1956-1962; Old Island Days at Burdine's Dadeland Gallery, February 1963, 1st prize in oils for a painted wood carving, Poincianas in Bloom.